This is a list of some of my favorite TV shows. (I probably forgot about a few). This list not in particular order.
One Tree Hill
This is by far my all-time favourite show. It premiered in 2003 and haven't really watched it until around 2008. I couldn't have understood the show even if I'd watched in 2003! Anyway, this is just a very well-written show. Too good it lasted for 9 seasons. I'm just sad it had to end. It's one of those shows that has very good, complex and relatable characters.
Grey's Anatomy
Warning: If you watch this, you'll probably end up wanting to be a doctor (just saying). That's not  a problem for me, though, because I already do. Haha.
Just like One Tree Hill, this show has stood the test of time. It's been airing for a long time too. It is a very fun, interesting and informative show. Very-well written, indeed. A lot of shows have tried and failed in creating a replica of this show.
Gossip Girl
If I could associate any memory to this show, that would be high school. I've practically grown up watching this show and I was both sad and happy to see it end. Who wouldn't miss Chuck Bass' irresistible voice, Nate Archibald's gorgeous eyes, Dan Humphrey's sexy messy just-got-out-of-bed hair, Blair Waldorf's schemes and headbands and Serena van der Woodsen's list of boyfriends? Unlike One Tree Hill and Grey's Anatomy, there's not really much substance you could get from the show apart from fashion and trend and series of betrayals and hook-ups. But still, it was a very fun series.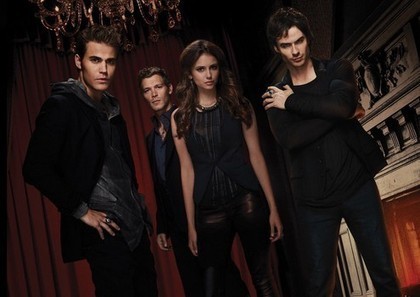 Vampire Diaries
This is definitely one of my favourite TV shows. I can't believe how the writers of the show transformed such boring books into a masterpiece. I've read the books and they aren't even close to the show. The show is amazing. Every single episode leaves you wanting more. Add Ian Somerhalder and Joseph Morgan…you've got the most perfect show ever. The plot is very well-thought-out and unique. At least, in my opinion. If you hated Twilight, you should give this a try.
Hart of Dixie
Hart of Dixie is one of the shows that would just make you smile when you watch it. It won't make you want to think when you watch, which is a good thing. Southern accent, bright and floral dresses, and a hint of medical information make up this very fun-to-watch show. Plus, Rachel Bilson's fashion here is to watch out for.
How I Met Your Mother
I'd like to thank and applaud the creators of this show. If it weren't for them, we wouldn't have Barney Stinson's womanizing advice & Ted Mosby's stories to his future kids. Although the show has been running for such a long time, it still hasn't failed to give us laughs and woahs. The actors are really good, of course, special mention to Neil Patrick Harris. Suit up!
Pretty Little Liars
It's one of those shows that could really scare you off some times. I love this show for a lot of reasons. First is of course, the theme. The plot…how the writers make the story evolve around this mystery person who goes by the name of A. Although sometimes the show could be really confusing, I think the writers are doing a great job in keeping the viewers interested and curious. I've thought about who I think is A, but again, we never know. This show is really weirdly mysterious. Another thing I adore about the show is the characters. We've got really good-looking people here! Great make-up, great clothes, great everything! And we also got gorgeous boys.
That's So Raven
This is probably the most different show among the list. It's a Disney and I think it's the best that Disney has ever come up with. That's So Raven humor is just eternal. It's one of those shows that you never get tired of. I've practically rewatched all the episodes of all the four seasons a million times already.
OTHER SHOWS I LIKE
The O.C.
Charmed
Emily Owens, M.D.
Big Bang Theory
Wizards of Waverly Place
**
What's yours?